Latest News and Updates at Jelitto Staudensamen · Perennial Seed · Graines de plantes vivaces
01.08.2023 -

New US import regulations from 2023

Several articles can only be imported into the USA with an import permit via the USDA (US Department of Agriculture).

Direct shipment with phytosanitary certificate and own import permit is possible. Our US agent, Mary Vaananen will be happy to assist you with the application and implementation.

Small orders are also possible with a detour through our US office. In this case Jelitto will provide the phytosanitary certificate and the required import permit.
Please carry out your order as usual, the store will show you the necessary steps and if applicable, additional costs.

Download Excel file of all USDA items (last change October 2nd 2023).
---
01.06.2021 -

Change in sales tax law:

The sales tax laws for deliveries within the EU have changed. From now on, the tax rate of the country of destination applies. Orders for customers in the EU without a VAT number are no longer charged with the 7% VAT applicable in Germany, but with the tax rate applicable for seeds in the respective country.
---
01.02.2021 -

Brexit

UK customers are welcome to continue ordering from us. Due to the extra paperwork required now, orders are taking up to 2-3 weeks to process and deliver. We assure your of our best service at all times.

Please note: For courier delivery services an EORI number is required.
---
01.11.2020 -

Press 2020

The company Jelitto Staudensamen was presented in two specialist magazines in 2020, "DEGA Gartenbau" (www.dega-gartenbau.de) and the swiss magazine "der gartenbau" (www.dergartenbau.ch).
01.01.2020 -

30 New Organic Herbs!



New Herbs!
Everybody liked the new white and pink flowering dandelions, so we added more very nice new items to our range of herbs. Verbena 'Brampton', the sacred sage Salvia apiana and the Holy Basil are only three of our new additons to the catalogue 2020/2021.
The organic seed range has also been supplemented with 30 new items. Now you can find the Geneva Bugleweed, the popular Salvia 'Shangri-La' and the Spanish thyme and many more.
You will find all addition to our range here!
07.09.2018 -

ISU Award for JELITTO PERENNIAL SEEDS
ISU Award for Echinacea 'Green Twister'
Suceeded in ISU Trial 2018 in Poland
The International Hardy Plant Union (ISU) is the organizer of a trial for new breedings of hardy perennials. At the ISU Summer Days 2018 in Poland 10 breeders sent in a total of 121 new perennials. An international commission examines the perennials for winter hardiness, vitality, growth and aesthetics. The Echinacea purpurea 'Green Twister' from JELITTO STAUDENSAMEN GmbH has convinced in trial and has been awarded the ISU Award.
An award of this kind is the successful completion of many years of breeding work. After the discovery of the seedling on a field of crops, the Echinacea was specifically bred to uniform growth and hardiness. The effort for a true seed strain is considerable large. Over a period of several years, suitable plants from constantly new sowings are valuated and selected in outdoor overwintering crops.
We are very happy after so many years of selection of Echinacea 'Green Twister' to receive the ISU Award of the International Hardy Plant Union.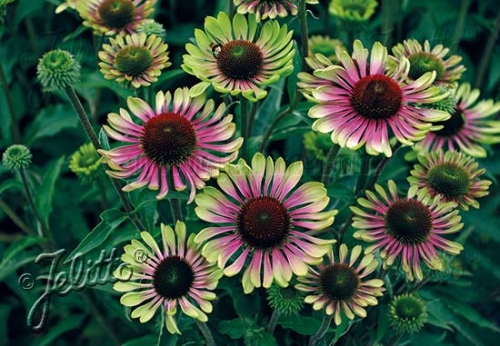 Echinacea purpurea 'Green Twister'
Echinacea 'Green Twister' and all other hardy Echinacea species and variaties.
02.02.2017 -

Random Browse

New 'RANDOM-BROWSE' Button in the Shop

JELITTO PERENNIAL SEEDS GmbH has an assortment of
3700 hardy perennials, kitchen herbs and ornamental grasses in stock.

We have added a function on our homepage, that makes it quite easy
to explore the large number of species and varieties.
The RANDOM BROWSE will generate a selection of articles and
it will be without great effort to scroll through the images.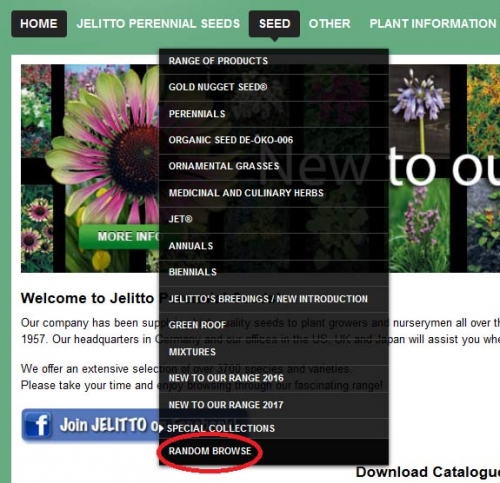 17.12.2015 -

Gold Nugget Seeds
Quantity Unit changes for JELITTO GOLD NUGGET SEED®!

Please order GOLD NUGGET SEED® in number of seeds only. There are no 1000 seed units prepacked! Each order is weighed individually.
You are welcome to order any amount, ie. 700 seeds or 15 200 seeds. Please bear in mind our minimum quantity per item.
Minimum charge per item 2 € net, price will be rounded up accordingly.


11.05.2015 -

Advanced Search

'Advanced Search' improved!


The 'Advanced Search' has been improved. The new button is accesable next to the common search. Check it out!