Welcome to Jelitto JET®Seeds!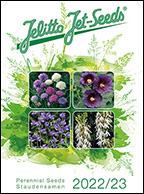 Our company has been supplying high quality seeds to plant growers and nurserymen all over the world since 1957. Our headquarters in Germany and our offices in the US, UK and Japan will assist you wherever possible.
We offer an extensive selection of over 3700 species and varieties.
Please take your time and enjoy browsing through our fascinating range!

Categories