Production - Breeding - SEED TECHNOLOGY
We concentrate very carefully on the seed technology sector, with special attention to seed cleaning, suitable seed storage, quality control of the seed, as well as innovative germination techniques. All seeds are carefully dried in Schwarmstedt. They are then gently cleaned to a purity level of over 98%. Equipment and seed cleaning machines developed especially for us are a prerequisite for processing into pure seed. Examples: Anemone, Limonium, Phragmites. See also About the company: Cleaning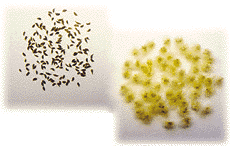 Anemone sylvestris
pure seed - normal seed
Particularly important for us is the proper and individual storage of the seed in order to preserve its viability, from harvesting to shipment. Experience gained over 50 years in storage technology and quality assurance means that we have harvest-fresh seed available in stock nearly all year.
More than 14,000 germination tests are carried out each year in our germination laboratories. Each batch is tested up to three times a year.
Particularly challenging and time consuming are germination tests on cold germinators as these must also go through a process in our laboratories of warm, cold and cool temperatures (according to our sowing instruction).